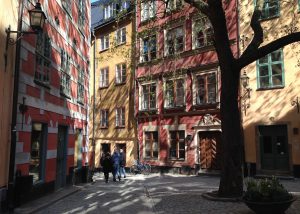 The Pandemic: Just now we are working within the constraints of emerging out of the pandemic, so we may continue to meet online or we may meet in person. For our next meeting in May we are assessing the situation.
When we meet in person: In the Old Town, Gamla Stan, one stop on the T-Bana from T Centralen, the main railway station in Stockholm.  When you get there you will recognise this picture!
Four times a year: Twice in Spring and twice in Autumn.
Our next meetings: 21-22 October 2022. The meetings for 2023 will be announced soon
Times of meetings: On Friday evening from 17.30 to 21.00 and on Saturday morning  from 9.00 to 12.30.  Please feel free to arrive up to 20 minutes early for a cup of tea, coffee and snack.  A light supper on Friday evening and morning snack on Saturday are included.
Cost per person for each weekend: New members for first year 800 Skr.  Retired people, students and people without work: 800 Skr. Regular members 1600 Skr. [Cash at the group]
For further details: Please write to Teresa von Sommaruga Howard on Teresa@JustDialogue.com.