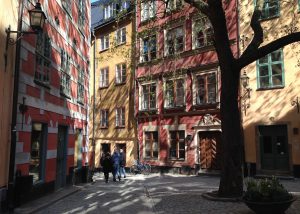 We meet: In the Old Town, Gamla Stan, one stop on the T-Bana from T Centralen, the main railway station in Stockholm.  When you get there you will recognise this picture!
Four times a year: Twice in Spring and twice in Autumn. For as long as we have the COVID-19 virus pandemic, all these meetings will be on-line using Zoom, we will meet more often and for two sessions instead of the usual four.
Our next meetings: 10 to 11 July; 11 to 12 September and 23 to 24 October 2020. [These will all be on Zoom].
Times of Zoom meetings: On Friday evening from 17.30 to 19.00 and on Saturday morning  from 9.00 to 10.30.
Cost per person for Zoom Meetings: To be updated
When we meet again in person, times are: On Friday evening from 17.30 to 21.00 and on Saturday morning  from 9.00 to 12.30. Please feel free to arrive up to 30 minutes early for a cup of tea, coffee and snack.  A light supper on Friday evening and morning snack on Saturday are included.
Cost for each weekend in Person: New members for first year 800 Skr.  Retired people, students and people without work: 800 Skr. Regular members 1600 Skr. [Cash at the group]
For further details: Please write to Teresa von Sommaruga Howard on Teresa@JustDialogue.com.